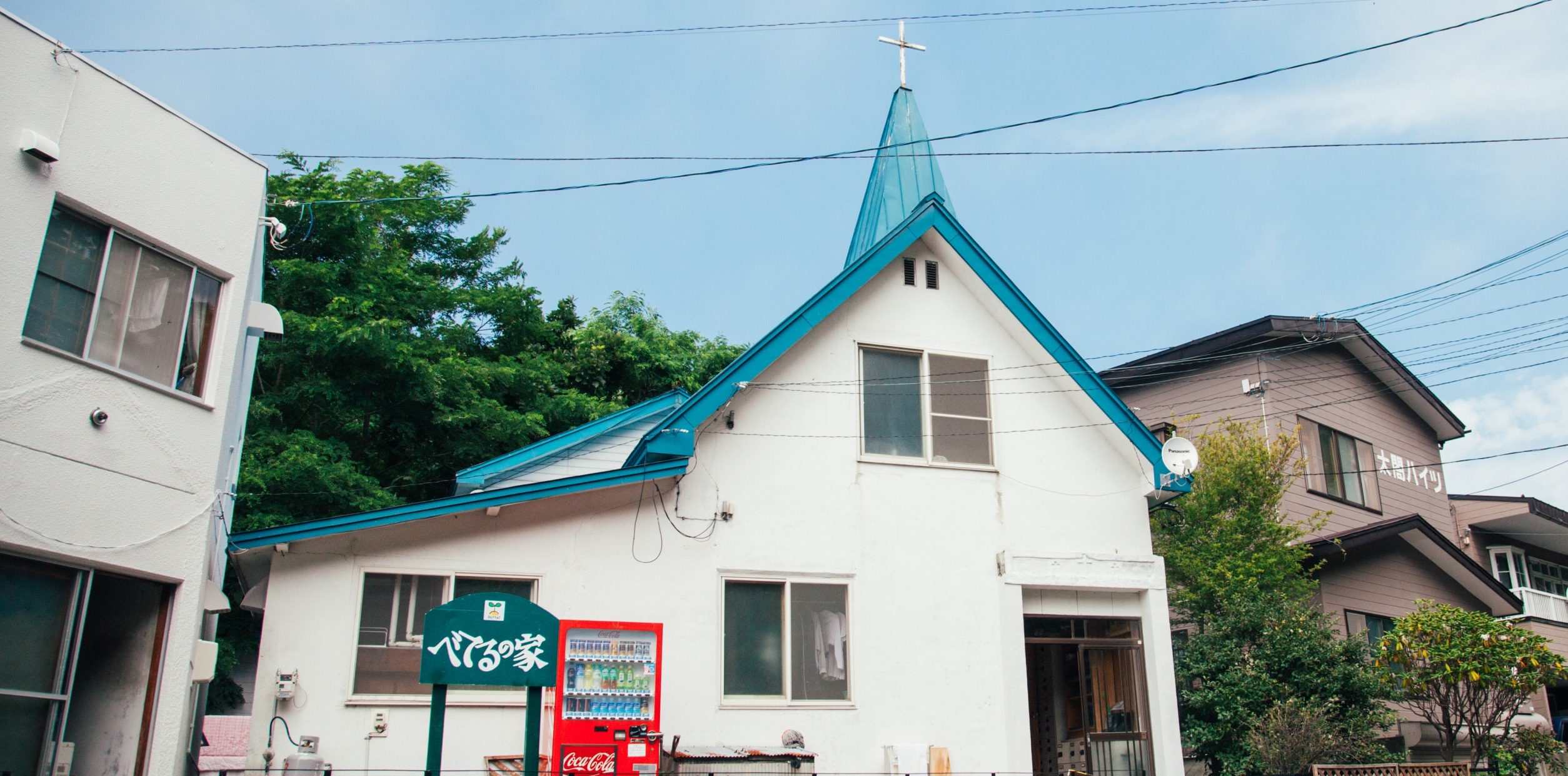 Urakawa Town, Hokkaido. (Population 12,000) A small town between Pacific Ocean and Hidaka Mountains, where bears roam, Kombu (sea weed) is abundant in the sea, Thoroughbred horses are raised in the countryside.
In 1978, several people with mental disorders, who had been discharged from Red Cross Hospital in Urakawa, formed a survivors' group.
They moved into an old, abandoned church house and started living together. It was named "Bethel House" in 1984, and became the cornerstone of advocacy movement of people with mental disorders.What made them a really unique group of people, not only in the world of medicine and welfare, but also in the whole world of human alianation, is their deep experiences of mental disorders, which for three decades formed and reaffirmed their philosophy of agony, despair, restoration and existence.
From the very first, people of Bethel didn't ask for help from others because they have disorders. Rather, they thought that the local community of Urakawa, a sparsely populatede small town in southern Hokkaido, had been suffering as well. So they thought that, as equal members of the local community, they should do something to help people around them. That is why Bethel House founded a Kombu processing company in early 1980s and joined the local business community. In other words, Bethel chose to survive on their own through difficult times, just as the townsfolk were doing, instead of becoming a privileged welfare organization.
Today, there are more than a hundred people who are associated with Bethel House in one way or the other, and they are involved in a variety of activities, which, roughly combined together, evolved to what people call Bethel House movement.
Bethel started to sell Kombu, the sea weed which is abundant in Urakawa, to contribute to the local economy. It remained in Kombu business for almlost thirty years. In its workplace, one of the famous mottos is "Use your tongue, rather than your hands," which means communication among members is more important than handwork.
We sell goods and amenities for elderly people who need nursing care. We deliver even a single diaper to their home. Elderly citizens are increasing in number in Urakawa, while the general population is decreasing. We want to contribute to the local economy by supporting the elderly people.
Mental condition of Bethel members tend to worsen when they face difficulties in the society. We don't ask members to fit themselves to the society. Rather, we ask the society to change itself to become a better place for everyone, including Bethel members, to live in.
Messages come out from various meetings at Bethel House. We always talk about various aspects and problems of life with mental disease, and our experiences with the disease are constantly the topics of our discussion.By giving words to our experiences, we feel we are relieved, become more self confident and find more people who share our experiences.We hope mental disorders become free of stigma in Urakawa.
You may be ill, or you may not be ill. When both ways are tolerated, we can find our place and wander around Urakawa freely. Hiroshi Matsumoto is a good example, and he claims to be a member of "bura-bura zoku," the wandering boys of Bethel.
Our Vision in Slogans
Hearing voice should be honored and be called "Mr or Ms Voice."
We welcome prejudice and discrimination. (We'd never denounce you for them.)
Honor the business that doesn't make profit.
No privacy, please. (A slogan applied, in most cases, to medics and paramedics.)You never know your disease until you come to Bethel House.At work, use your tongue rather than your hands.
Meetings first, meals second.Despite diagnosis, you name your own disease.
Believe in the power of your community.
We sell sea weeds and stories of our diseases as well.
Don't get well on your own.Weakness empowers.
Disclose your weakness.Welcome problems.
Take back the burden of your life.
Let's make a work place where everybody can skip work, without feeling guilty.
No more upward life. We stay with downward life.
Social Welfare Service Corporation Bethel House in Urakawa
Bethel Vocational Support Center
Kombu packing team
Kombu packing team makes various types of Hidaka Kombu (Kombu harvested from Hidaka off shores) packages and sells them. Kombu weeds are rated first through fifth grade, and we make packages accordingly. Kombu packing work provides Bethel members with good opportunities and training of mutual communications, including talks on how to deal with the mental disorders.
Shipping team
Shipping team sends customers Kombu products as well as Bethel books, video tapes, DVDs, etc. Its members are constantly in touch with packing team and financial section of Bethel House, and they have to have higher level of communications skills. Also, they have to take phone calls and answer inquiries from customers from all over the country. The busy members are encouraged to disclose actively their condition, problems and hardships as frequently as possible through meetings, SSTs, etc.
Orientation team
Orientation team welcomes visitors who come to Bethel House from all over the country, and at times, from overseas. There were 2,500 visitors in 2009, and the team members are constantly updating reception and presentation skills through meetings to better accomodate the visitors.
Sign up for Bethel tour now!
We always welcome visitors who wish to see in person the world famous Bethel House. (Sorry, we are closed on Saturdays, Sundays, National holidays, Christmas and New year holidays.) Bethel orientation team members will guide you through Bethel organization, and you may join? Bethel meetings, SST, self study meeting, etc., when they are in session.Bethel tour fee: \3,000 per person. (Group tour arranged on order.)
For reservation, please contact 0146-22-5612.
Bethel goods team
Bethel goods team designs and makes Bethel T shirts, crew shirts, pullovers, aprons, Saori-woven textiles, and more Bethel goods. At their regular meeting each Thursday afternoon, members talk about ideas and products of new Bethel goods.
Bethel men-men (noodle) team
Bethel men-men team makes udon (Japanese noodle) at Bethel seminar house. The noodle is made solely on order. However, members of the team often go out of the kitchen and sell products to people in town, explaining that their product is additive free and safe enough because of the strict production control. The noodle is now well known to people in Urakawa.
Shinsen-gumi (Freshness team)
Shinsen-gumi team is based at Bethel seminar house and the members regularly collect and dump garbages, take used furniture and appliances in town for recycling, and at times help people moving. Their recycling business help Bethel members discharged from hospital to start a new life.
Cafe Bura-bura
Bura-bura Za is one of office/shop/factory complexes run by Bethel, and it is located at the center of Urakawa, on 4th Street and Oh-dori (Grand? Boulvard). The three story building was rennovated in 2009, with the first floor housing Cafe Bura-bura, where you can sip organic coffee and find Kombu products, various books on Bethel, DVDs, goods and souvenirs on sale. Cafe Bura-bura was designed to accomodate "slow life," and it was constructed by straw-bale method that uses straw and clay as basic material. Every Tuesday, members hold a meeting at Cafe Bura-bura to talk about services and challenges of the cafe, and they often practice SST at the meeting.
Bethel Life Support Center (Group Home, Care Home, Goup House)
Lots of apartment houses are scattered thoughout Urakawa town. Many of them are run by Social Welfare Service Corporation Bethel House in Urakawa: Four of them are group homes mostly financed by public domain and accomodate 30 members, Five are group houses partially financed by public domain and accomodate 25 members. There are other types of apartment houses and, altogether, more than 80 members of Bethel House are in large or small numbers in these housings.Members of group homes and care homes are supported by official staffs and trained staffs, while members of group houses may be supported by other types of service staffs.
House meeting
At every apartment house, there is a regular meeting of house members once every week. Members and supporting staffs get together and talk about their days of the past week, difficulties, problems and possible improvements of their life.
Donguri (Acorn) Club" (Survivors' club)
Donguri Club is a self help group of people who experienced mental disorders. The club was first formed in 1978, when its members celebrated discharge from hospital of Minoru Sasaki, Chairman of the Board Members of Social Welfare Service Corporation Bethel House, at a barbeque restaurant in Urakawa. At the meeting, members talked about their disease, life, future and cooperation.There are more than 100 members now, and they are united to help each other, and to advance social status of club members with various mental disorders. Bethel MeetingsBethel House is famous for its outstanding variety and intensity of meetings, which are summarized in a motto, "Meetings first, meals second." Here are some examples.
Self Support Programs
Bethel House has lots of programs to help members support themselves, and most of them fall within the framework of cognitive behavioural psychotherapy.
Tojishakenkyu(Member Self Study Meeting)
Tojishakenkyu(Member Self Study Meeting)is probably the most important meeting of Bethel House. At the meeting, we get together to talk about our problems and difficulties among ourselves, but the talks are directed not to a loose conversation that reach nowhere but to the area of analytic research and study of a speficic member's difficulties. Those difficulties may or may not be associated with mental disorders, and may be rooted in the hidden desire of the member's own existence. In any case, we talk to find ways and means for the member and for ourselves to cope with the diffucolties.In the Member Self Study Meeting, exchange of words form substantial part of the study, but we make it a habit to draw diagrams and flow charts as much as possible of the member's situation in which the difficulties arise, facilitating the study by visualizing the circumstances in which the difficulties are locked up.In recent years, many professionals came to understand that the members with mental disorders are not necessarily people who always need help and support of others, but they are people who are able to help and support others as well. Based on the understanding, members of Bethel House are committed to reach out to the local community by proposing that the whole town of Urakawa becomes a place of self study, or a town full of people engaged in lifetime studies. Today, more and more townsfolks seem to talk what they have accomplished through their own version of self study in their community.
SST (Social Skill Training)
SST is a meeting in which members address their own difficulties of daily life and diseases, but they focus more on the cognitive and behavioral aspects of the problems that lay deep in the background. At the meeting, members are engaged to conduct role playing and communication training to cope with their specific problems. Member performance is always encouraged by positive feedback by other members. There are four SST meetings every week at Bethel, and they form basis of other meetings as well, by enabling meeting members to come forward and talk about themselves.At Bethel House, we always prefer communication to rehabilitation, because, in our view, the former is much more important than the latter. Therefore any tpye of communication, whether it being in daily exchange of people or in business environment, is encouraged to everyone at all times. Daily exchange and business activities of members are indispensable part of life at Bethel Housae, and we always try to have them work positively related to the recovery of members from their difficulties.
Friday Meeting
All members of Bethel get together once a week at 11 a.m. on Friday morning. Members from Red Cross Hospital, those who are hospotalized or members of mental health day care, also join the meeting. Self-appointed "speakers of the week" report what sort of difficulties they have experienced over the past week, and all members exchange words accordingly.
Peer Support Meeting
Meeting of registered members of peer support program. They help fellow members to get out of hospital and live in town, with official help from Urakawa Public Health Office and Red Cross Hospital.
Couple Meeting
Meeting of members who live in couple, who are in special need because of their status of living with a partner of other sex, which often is the cause of more difficulties.
Heart Meeting
Meeting of members who are supposed to be in love with eath other, or about to be. Urakawa Public Health Office, Town of Urakawa and Red Cross Hospital are among the members who support them by providing necessary information and knowledge to respect partners, their personality and life,? including safety from STDs and birth control. The meeting sends them a message that, although troubles may occur, love is a splendid thing.
Morning Meeting
Members of Bethel work force assemble at 9:15 every weekday morning in New Bethel Office. They report to the meeting their mood, condition and expected work hours, thus enabling other members to know his or her status of the day before they get to work. At times they report group home situation that they face, among other topics.
Reflection Meeting
At the end of work hours, members look back what they have done and talk about improvements of the work system. Members are encouraged to tell any problem they had during the day, so that they can leave it behind and not haunted by them thereafter.
Strategic Meeting
Meeting of members and support staffs to discuss among themselves the long term managament of Bethel, where major bisuness plans take shape.
Care Conference
A conference of Bethel staffs, doctors, nurses, social workers of Red Cross Hospital, to address various needs and to take care of a specific member. Fellow Bethel members regularly take part in the conference, along with professional staffs.
Conference to Coordinate Local Resources
This is sort of an extended care conference. Once a month, professional staffs from Urakawa Town, Urakawa Public Health Office, and caseworkers from Hidaka Regional Office take part in the care conference, which is held at Urakawa Town Office. The conference aims to address the needs of focus members. Fellow Bethel members regularly take part in the conference, along with professional staffs.
Cheer Conference
Conference for a Bethel member who carries difficulties of life directly or indirectly associated to mental disorders. When the member feels and tell others that he or she needs extra encouragement, fellow members respond by opening the conference and praizing the good fight of the memberl. Cheer conference is not a big event, and it is seen everyday at many meetings and conferences.

Coordination Conference of Facilities for Handicapped People
Since the national law to encourage self support of disabled people became effective, liaison among facilities in Urakawa that accomodate physically handhicapped people, mentally retarded people and people with mental disorders has been strengthened. We often have meetings and conferences to better address general needs by those with disabilities and disorders in Urakawa area. We also have programs to educate and train students and professional staffs.
Conference on Support for Child Care
Urakawa Town has a child abuse prevention program, and it coordinates local resources to prevent child abuse. Bethel House is a member of the conference, which runs child abuse prevention network of Urakawa Public Health Office, Urakawa Town, Urakawa Education Board, Red Cross Hospital, Child Center, Hidaka Regional Office, among others. We hold a monthly meeting to support the parents who have problems in child care, and talk with them to create a safe and positive eivironment for children.
1978 "Donguri (Acorn) Club" (Survivors' club) formed.
1980 Members with mental disorders started to live together in an old church house, which had been Urakawa Branch of United Church of Christ in Japan.
1983 Kiyoshi Hayasaka and others started to produce Kombu packs under contract.
1984 Members' group home was named "Bethel House."(Please note that, as of today, the word Bethel House means the specific group home as well as the whole activities by Bethel members in Urakawa.)
1988 Members started independent Kombu business instead of work under contract.
1989 Fukushi Shop Betel was formed and started selling disposal diapers.1990 Kombu packing word began receiving town subsidies.1992 "Bethel no ie no hon (A book on Bethel House)" was published.
1993 Fukushi Shop Bethel became a limited company.
1995 Kombu work place and its administration moved from Bethel House to next door, Urakawa Church.Group home Bethel House began receiving subsidies from both Hokkaido Prefecture and Urakawa Town.First hallucination and delusion contest.
1996 Fukushi Shop Bethel opened its store, which was named "Papo."
1999 Group home "Shiomi Heights" started receiving subsidies from Japanese Government, Hokkaido Prefecture and Urakawa Town.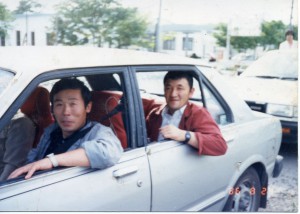 2000 Group home "Flower Heights" started receiving subsidies from Japanese Government, Hokkaido Prefecture and Urakawa Town.
2001 Group home "Bethel House" started receiving subsidies from Japanese Government, Hokkaido Prefecture and Urakawa Town.Founding Committee for Social Welfare Service Corporation Bethel House in Urakawa was formed.Fukushi Shop Bethel, Ltd. moved from Shoheicho to Tsukiji in Urakawa."New Bethel," a cooperative work place opened.Group homes "Ozaki House" and "Rika House" opened.
2002 Social Welfare Service Corporation Bethel House in Urakawa was founded at New Bethel complex and became the hub of all Bethel activities.Small scale cooperative work places for people with mental disorders, "Urakawa Bethel" and "New Bethel" opened.
2003 "Bura Bura Za" opened at Fourth Ave. of Main Street in Urakawa. Bura Bura Za was intended to become living room for Bethel members and local folks.Group home "Rainbow House" opened.
2004 Urakawa Bethel expanded its business to agriculture and fish processing works.
2006 National Assembly of Japan People with Mental Disorders was held in Urakawa. Bethel House was de facto sponsor.Bethel Seminar House opened.Small scale cooperative work place for people with mental disorders, "Urakawa Bethel" moved to Bethel Seminar House.Group home "Shiomi Heights" was moved to Bethel Seminar House, and group home "Mikan" opened at Seminar House.
2007 NPO Self Support Center Urakawa was formed and started to explore peer support for Bethel members.Group home "Peer" opened.
2008? People with Disabilities Act proclaimed. Small scale work places were modified accordingly.
2009 Under People with Disabilities Act, support for Bethel members was expanded to wider aspects in daily life, and group homes were modified to play in part as care homes.
2010 National Assembly of Japanese Association of Psychiatric Rehabilitation was held in Urakawa, with Bethel House as a cosponsor.